Pinellas Glass Inc: The Number One Provider Of Frameless Shower Doors In Clearwater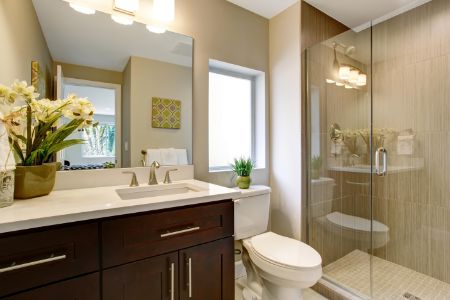 Frameless shower doors can help you truly open up the space in your Clearwater bathroom, and we'll help you find the perfect fit for you and your residential property. We come with over thirty years of experience here at Pinellas Glass Inc, so you can always depend on us to provide a world class customer experience throughout the entire process from beginning to end. After all, Pinellas Glass Inc is the absolute highest quality glass company for Clearwater and the surrounding areas, and we're always here to help!
No Frame Shower Door Options For A Seamless Look And Feel
Frameless shower doors and enclosures are a fantastic option for a wide variety of reasons, and they are definitely worth looking into for your Clearwater home. Most showers can accommodate a frameless shower door, making them an ideal choice for many homeowners. Throughout the consultation process, we will find out exactly what you're looking for before custom designing and installing your new door. And with so much control over the hardware style and finish, you'll have a door that perfectly suits your needs by the time we're done with it!
Our glass shower doors come with so many options to choose from, and we'd love to help you find the best fit for your individual needs. Check out the rest of our shower door services or give us a call to learn more!
The Many Advantages Of Frameless Shower Doors
So what makes this type of shower enclosure a great choice for nearly any home? Here are just some of the many advantages of frameless shower doors and enclosures:
They open up the room. Frameless shower doors are fantastic for creating a light and open design, and they're ideal for smaller spaces where framed doors or shower curtains can make them feel a lot more cramped.
They're incredibly easy to customize. This type of shower door allows so much freedom in the look and feel since it's cut to fit your shower space. It's a great way to achieve a shower enclosure that fits your unique tastes!
They're easy to clean. With metal framing, you might find that it's harder to work around in order to give your shower doors a complete and proper clean. Frameless shower doors are a lot easier to wipe down, and they're less prone to mold and mildew buildup.
IF YOU WANT A CUSTOM GLASS ENCLOSURE IN CLEARWATER OR SURROUNDING AREAS, GIVE PINELLAS GLASS A CALL TODAY!