Professional Shower Glass Door Replacement For Your Residential Home Or Commercial Space In Clearwater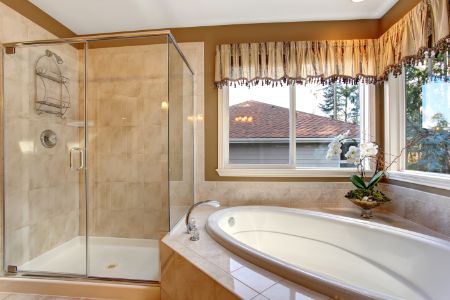 No matter how top quality your existing shower door or enclosure is, there will eventually come a time when you're in need of a professional shower glass door replacement service. Pinellas Glass Inc is proud to be a leading authority when it comes to this industry, and as the leading expert glass company for Clearwater and the nearby communities, you can always count on us for a job well done. After all, our skilled team of experts has over three decades of experience and counting, and we will provide absolutely flawless results each and every time you choose to work with us.
If you're ready to get started on scheduling your Clearwater area home or business for a shower glass door replacement service, give us a call or fill out our handy online service request form today. Our team will be sure to bring your shower right back up to speed!
Installing Glass Shower Doors
Whether you're in the market for a first time installation or you're in need of a top notch professional shower glass door replacement service, Pinellas Glass Inc is here for you and your Clearwater home or business. If your shower has any type of door enclosure, then it's important to ensure that it's doing what it needs to do to prevent damage to the rest of your bathroom. When it comes to replacement, you'll want to work with an experienced expert who will ensure that you get a properly fitted door that looks and feels the way you want it to. This will help prevent the need for another replacement before it's due time for one, and you'll get a shower door that looks great!
Interested in another one of our high quality replacement services? We also offer flawless professional mirror replacement for both homes and businesses alike!
How To Tell When It's Due Time For A Shower Glass Door Replacement
So what exactly are the signs that you might need a shower glass door replacement service? In some cases, it may simply be because you're looking to update the look and feel of your shower enclosure. However, in the case of damage, here's what to be on the lookout for:
Visible damage to your shower door such as cracks, scratches, and chips
Rust or other discoloration due to age, soap scum, and other residue buildup
Leaking water due to the cracking, warping, or overall loosening of your shower door
Any issues with the door closing mechanism and the other hardware that holds it together
IF YOU WANT A CUSTOM GLASS ENCLOSURE IN CLEARWATER OR SURROUNDING AREAS, GIVE PINELLAS GLASS A CALL TODAY!