Custom Shower Doors And Enclosures: What To Consider When Hiring A Pro For This Service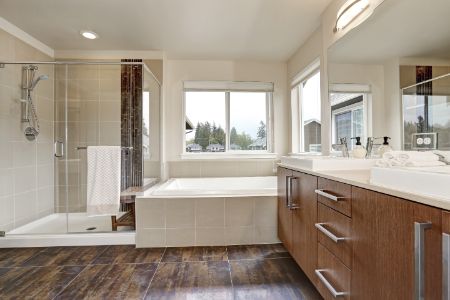 An expert glass company can help you create a gorgeous custom shower door for your home, but there are many things to consider when you embark on your journey. While a contractor can certainly help you figure out exactly what you need from scratch, having a solid idea in mind helps make the whole process far more streamlined. Keep reading to learn a little more about what to consider before you set up your consultation for a brand new custom shower door or enclosure!
How The Custom Shower Door And Enclosure Process Works From Start To Finish
The process itself is fairly simple. A contractor will meet with you for an initial consultation in which you'll go over exactly what you're looking for. From the style of door to the design and everything in between, you'll give your dream to a specialist who can then make it a reality. The contractor will go over the options that'll best suit your vision, and from there they'll take the measurements and create the door or enclosure you've been looking for.
Before meeting with your contractor, you'll want to consider a few things. If you have a smaller bathroom or a narrow shower, it's important to think about the type of door mechanism you want. Sliding glass doors or doors that open inwards are ideal for smaller spaces, since they don't require much or any clearance space outside of the shower itself. You'll also want to consider the type of hardware and design you'd like to really elevate the look and feel of the whole room.
To work with the number one glass company in Clearwater and the surrounding areas, give the team here at Pinellas Glass Inc a call today. We'll help you create the perfect custom shower door for an affordable price point that won't break the bank!
What You'll Have Control Over To Ensure You Get The Shower Door Of Your Dreams
Even when you're working with a professional glass company, you'll still have control over the look and feel of your custom shower door when all is said and done. When it comes to installing or replacing custom shower doors, you'll have the freedom to choose:
Whether your shower door is framed or frameless
The look and feel of the hardware, including style and finish
How your shower door opens and closes
The style and type of door as well as the glass thickness
IF YOU WANT A CUSTOM GLASS ENCLOSURE IN CLEARWATER OR SURROUNDING AREAS, GIVE PINELLAS GLASS A CALL TODAY!